We have updated several pages including our MOS/6502 Page.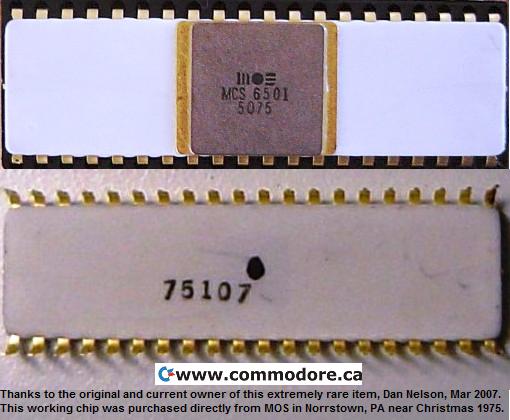 When we asked him a few weeks ago, Chuck Peddle said:
by contract with Motorola we stopped producing the 6501 so none really made it to market of any numbers we never intenteded anyone to buy it anyhow. It was an in your face to Motorola. The 6502 was 5 volts only and pinned out better. It is indeed rare.
The whole story from the proud owner, Dan Nelson:
I kept the MCS 6501 (with manuals) locked away until a few days ago when I received an email from a collector who was aware I had it. The monetary 'collector's' value is of not the issue for me at this juncture. The 6501 is such a curiosity I thought I would try to find out a little more about it and where it stands in terms of a celebrity (predecessor to the 6501), and what an virtually untouched 6501 could command. I have scoured the internet and fould a lot of information about the 6502 and beyond, but couldn't capture the time frame between MOS Technologies beginnings with the 6500 product line and when the 6502 captured the personal computer world.

History of my MCS6501:

---------------------------------

I lived in Seattle but company headquarters were in Blue Bell PA (Sperry Univac).. A colleague and I visited the MOS Technology offices (only 10 miles or so from Blue Bell) to purchase the chip. I 'thought' I bought in in the summer of 1975 but the date code (5070) on the chip indicates it was manufactured during the end of year. In addition the two manuals I purchased with the 6501 were dated August 1975 (first edition). The key clue (thanks to my wife who would remember things like this) is that I had just moved to Seattle in July 1975 and the project I was working on did not warrant me being in Blue Bell until early 1976.

I recall visiting the offices in Norristown where I purchased the chip directly. The price was $20 for the IC and I think $5 each for the hardware and software manual. I do recall areceptionist (female) and couple of gentlemen (engineers or managmemt?) who talked with us.. What surprises me is why I didn't buy a 6502? I don't recall it even being offered. Obviously the law suit with Motorola wasn't mentioned and rightly so the 6501 remained a candidate.

I looked through the manuals (August 1975) and the pinout of the 6502 had been changed to prevent 6800 compatibility. This would make sense if the 6502 started to be manufactured in September of 1975.

...it is interesting that an 6501 was sold to me at the Norristown office and not a 6502? The encouraging thing is is that at this time I probably got a working 6501